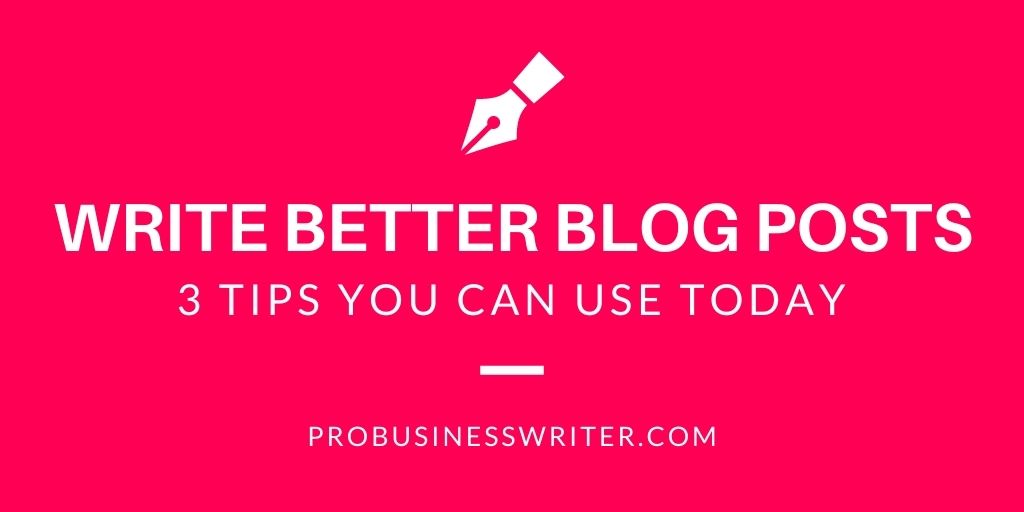 If you've ever looked back over your old blog content and found it dull, uninspiring, or even inappropriate for your company's goals, you might be wondering how you can write better blog posts.
Writing better blog content doesn't have to be difficult. Your existing style might just need a few tweaks to take it to the next level.
Here are three easy things you can do to write better blog posts, starting today:
1. Know Your Audience
The most important thing you can do if you want to improve your blog post quality is to understand the readers your content is written for.
After all, your business blog isn't about you. It's about your readers.
Think about who those readers are. Are they existing customers? Are you writing for potential clients? Or are you perhaps writing for other professionals in your industry?
When you know your audience, you'll be able to determine their goals. You'll have a better idea of the questions they want answered. You'll know what challenges they face.
As a result, you'll be in a better position to provide useful blog content that meets your readers' needs.
2. Make Your Blog Posts Easy to Read
Most readers don't visit blogs to read 10,000-word screeds.
Readers want an answer to a question. They want a solution to a problem. They want tips, tutorials, or advice from blog authors they trust. And readers have come to expect that content to be "scannable," even (no, especially) when that content is long-form.
Scannable blog content is simply content people can scan easily will the eye to find what they're looking for. You can do the following to make your posts more scannable:
Use (mostly) short paragraphs.
Add numbered and bulleted lists.
Break up sections using headings and subheadings.
Use images, videos, pull-quotes or other visual elements to break up text.
Embrace white space.
Your goal is to avoid long blocks of rambling text. Not every reader wants to read your entire post. Make it easy for them to find the information they need.
3. Write Better Blog Posts by Being Yourself
Writing better blog content isn't just about what you write or how you structure it. It's also about standing out among the competition.
Avoid bland, dry content that any old Joe could have written. Inject your personality into your writing. Let readers get to know you. Your blog isn't just about publishing information. It's a tool for relationship-building.
Here are some ways you can put your personality into your posts to write even better blog content for your business:
Share first-person insights and experiences.
Add humor to your writing, where appropriate.
Maintain a consistent personal style in your content.
Write as if you're talking to your readers (using first and/or second person point-of-view).
If you have a personal story or anecdote that illustrates your point, share it.
Putting a bit of yourself into your blog posts doesn't have to mean over-sharing or posting things that make you uncomfortable. It's about giving your blog posts a bit of your unique voice, and helping readers get to know you so they come to trust you.
These tips are far from the only ways you can learn to write better blog posts. But they're a start, and they'll help you improve both your strategy and your style.
If you still struggle to write effective blog posts, consider hiring me as a freelance blogger to ghostwrite your company's content. I can even coach you on how to write better blog content yourself if you prefer. Get in touch to find out how I can help in your unique situation.