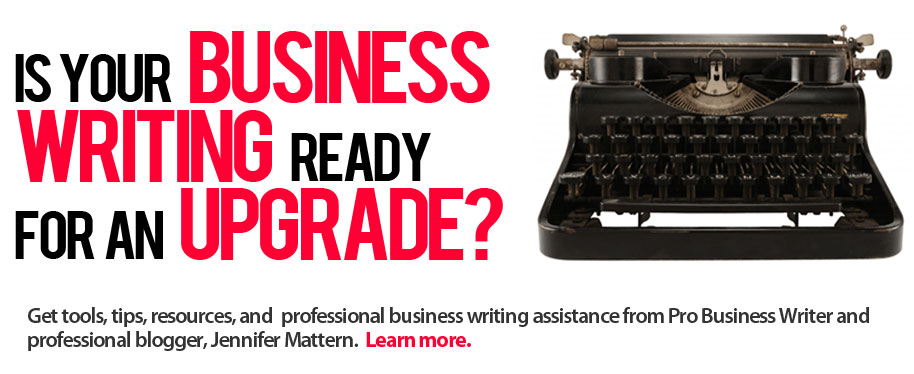 Why Hire a Professional Business Writer?
Does your company's Web copy inspire readers to take action, or is it nothing but words on a page? Stop boring your website's visitors, and start giving them what they want. A professional business writer turns your humdrum text into compelling copy converting visitors into customers.
A professional business writer will help you craft Web content, marketing and PR copy, and more with your target market in mind.
Do you want to educate potential customers to show them why they need your product? Do you want to persuade them that your company is better than the competition? No matter what your goals are, you need a professional business writer on your side to transform your thoughts and goals into powerful words that get the job done.
Take a look around the site to explore my business writing services and review past work in my portfolio. Then contact me when you're ready to check my availability and discuss your next business writing project.
---
Latest From the Business Writing Blog
02-17-2014
Recently we talked about business blogging and some important formatting tips for making your business blog content "scannable." But formatting your blog posts only matters if you can think of something to write about. How are you supposed to keep fresh ideas coming so your company blog can be regularly updated? If you're short on ideas, try these five angles on for size. You might even want to alternate these types of posts on a regular basis. 1. Share Industry Insights Keep an eye on ind...
01-27-2014
People read on the Web differently than they might read something like a book. Readers often visually scan an article, your marketing copy, or a blog post before (or in lieu of) reading your material in full. As a result, it's important that your business copy and content is "scannable," especially on your company blog. Your readers -- in many cases your potential customers -- want specific information. And they want it quickly. Here are three simple things you can do to write more scan...
01-08-2014
It appears that "content marketing" will be just as hot of a topic this year as it was in business circles last year. Unfortunately many businesses still don't understand the most basic principle of content marketing, and it's causing them to make a serious mistake when bringing on business writers to help them. Here's the thing. Content marketing is all about creating and sharing high quality content -- things people actually want to consume and interact with. Are You Making This Content ...