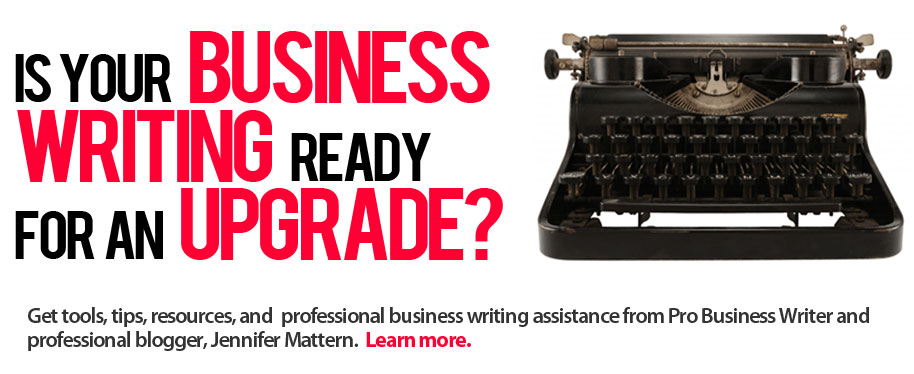 Why Hire a Professional Business Writer?
Does your company's Web copy inspire readers to take action, or is it nothing but words on a page? Stop boring your website's visitors, and start giving them what they want. A professional business writer turns your humdrum text into compelling copy converting visitors into customers.
A professional business writer will help you craft Web content, marketing and PR copy, and more with your target market in mind.
Do you want to educate potential customers to show them why they need your product? Do you want to persuade them that your company is better than the competition? No matter what your goals are, you need a professional business writer on your side to transform your thoughts and goals into powerful words that get the job done.
Take a look around the site to explore my business writing services and review past work in my portfolio. Then contact me when you're ready to check my availability and discuss your next business writing project.
---
Latest From the Business Writing Blog
05-20-2015
You've decided that your company should have a blog. But do you know what kind of blog you want to launch? Will it be a "business blog," or will it be a "niche blog?" What's the difference? And does it really matter? Business-owned blogs offer many benefits including: relationships with potential customers increased visibility direct sales potential trust-building and thought leadership in your industry and so much more. To get the kinds of benefits you're looking for,...
04-29-2015
Writing impacts your business on a daily basis whether you realize it or not. Strong writing is what makes your ads successful. It's what convinces members of the media to pick up your news story from your press release. It convinces website visitors to become customers. Think about it for a minute. Business writing is involved in many aspects of your business, such as: investor reports; advertisements; sales letters; help desk content; product descriptions; your...
01-23-2015
Are you interested in content marketing to promote your small business? Do you need a better communication plan internally? Could you use some help with your media relations? If you answered "yes" to any of those questions, it might be time to talk to a professional writer. Freelance writers can bring a lot to the table. It's a topic I recently talked about on my blog for other writing professionals, where I shared 105 writing projects they could pursue to make a living. But that list is impo...