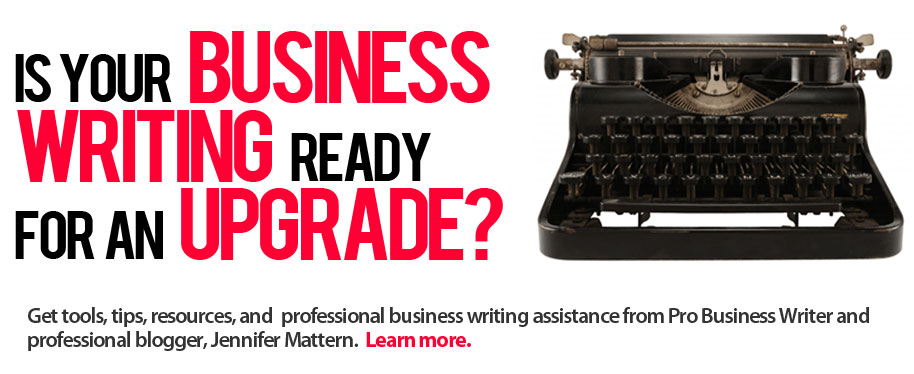 Why Hire a Professional Business Writer?
Does your company's Web copy inspire readers to take action, or is it nothing but words on a page? Stop boring your website's visitors, and start giving them what they want. A professional business writer turns your humdrum text into compelling copy converting visitors into customers.
A professional business writer will help you craft Web content, marketing and PR copy, and more with your target market in mind.
Do you want to educate potential customers to show them why they need your product? Do you want to persuade them that your company is better than the competition? No matter what your goals are, you need a professional business writer on your side to transform your thoughts and goals into powerful words that get the job done.
Take a look around the site to explore my business writing services and review past work in my portfolio. Then contact me when you're ready to check my availability and discuss your next business writing project.
---
Latest From the Business Writing Blog
10-21-2014
While I almost never look at job boards and freelance marketplaces for new freelance writing and blogging jobs, I do review them to curate the best leads on my own site for writers. I frequently come across one client request in those ads that makes very little sense, and which is downright disrespectful to the freelance professionals clients are looking to hire. Some clients not only ask, but demand, that any freelance blogger they hire should use their own personal social network accounts t...
08-04-2014
Business writing is important to companies large and small, and even to independent professionals. It helps you sell products and services. It helps you develop and earn exposure for your brand. It keeps you in touch with important groups (from customers to employees). And the quality of your business writing can have a direct impact on your perceived professionalism. Yet many business owners don't optimize their use of business writing. They ignore important types of business writing projec...
06-17-2014
You might not know this, but I'm not simply a business writer. I used to own a PR firm where I specialized in online PR and social media consulting. And I've spent years helping independent creative professionals and business owners manage their marketing and PR efforts. I even ran a popular PR blog for a while before turning to a full-time career as a writer. Now I'm turning my attention back to marketing and PR with the upcoming launch of The Bad Marketing Blog. This blog will be sim...