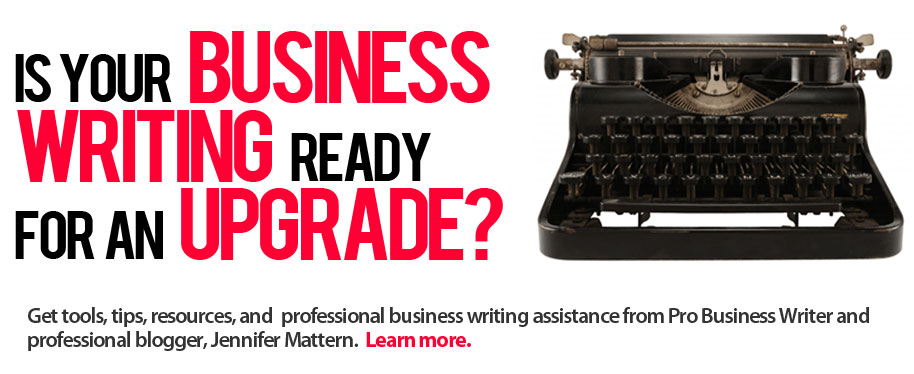 Why Hire a Professional Business Writer?
Does your company's Web copy inspire readers to take action, or is it nothing but words on a page? Stop boring your website's visitors, and start giving them what they want. A professional business writer turns your humdrum text into compelling copy converting visitors into customers.
A professional business writer will help you craft Web content, marketing and PR copy, and more with your target market in mind.
Do you want to educate potential customers to show them why they need your product? Do you want to persuade them that your company is better than the competition? No matter what your goals are, you need a professional business writer on your side to transform your thoughts and goals into powerful words that get the job done.
Take a look around the site to explore my business writing services and review past work in my portfolio. Then contact me when you're ready to check my availability and discuss your next business writing project.
---
Latest From the Business Writing Blog
01-23-2015
Are you interested in content marketing to promote your small business? Do you need a better communication plan internally? Could you use some help with your media relations? If you answered "yes" to any of those questions, it might be time to talk to a professional writer. Freelance writers can bring a lot to the table. It's a topic I recently talked about on my blog for other writing professionals, where I shared 105 writing projects they could pursue to make a living. But that list is impo...
12-01-2014
Have you ever visited a competitor's website and noticed that they have an online media room (also known as an online newsroom)? Have you wondered why they bothered or what benefits an online media room actually offered? While there's no need to rush to create one of your own, it might be a good idea to start planning for one in the future. Let's explore why. Here are a few reasons you might want to consider adding an online media room to your company's website. Make Things Easier on the Med...
11-03-2014
Customer relationships shouldn't end as soon as you land a sale. The key to good relationship marketing is to keep customers coming back. And you do that by staying in touch well after the initial sale. Fortunately, you have plenty of options for keeping in touch, and your business writer can help you with any of them. Here are five ways your or your business writer can keep your company in regular contact with customers. 1. Your Company Blog Use your company's blog to share news and specia...